Welcome to Botsitter.com
Botsitter, LLC is a company engaged in the development of a variety of pet care applications, including the Botsitter Pet Care Robot.  Our patented technology includes a plurality of applications related to the automated care of animals. Our intellectual property consists of numerous unique and proprietary functions and features.
The NEW Botsitter animal care robot is now available for purchase! Click here for more information!
The original Botsitter V1 animal care robot (below) was introduced in 2014.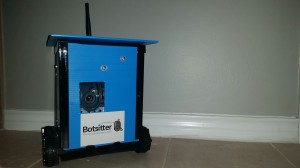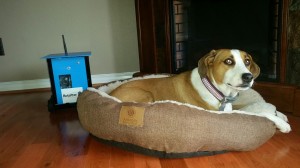 News! – April 2014
Botsitter receives first US Patent (8,707,900)
News! – September 2015
Botsitter receives second US Patent (9,131,660)
News! – January 2017
Botsitter receives third US Patent (9,538,728)
News! – May 2017
Botsitter completes licensing agreement with Sego Robotics USA to offer the Sego Pet Robot in the United States
News! – September 2017
Botsitter receives fourth US Patent (9,750,227)
News! – April 2018
Botsitter receives fifth US Patent (9,936,680)
News! – August 2018
Botsitter receives sixth US Patent (10,049,278)
News! – May 2019
Botsitter completes a second licensing agreement with Sego Robotics USA to offer the Pumpkin Pet Robot in the United States
News! – October 2019
Botsitter receives seventh US Patent (10,555,498)
News! – February 2022
Botsitter receives eighth US Patent (11,249,495)
News! – March 2022
Botsitter receives ninth US Patent (11,278,000)
News! – June 2022
Botsitter receives tenth US Patent (11,425,891)
Contact us – Support@Botsitter.com